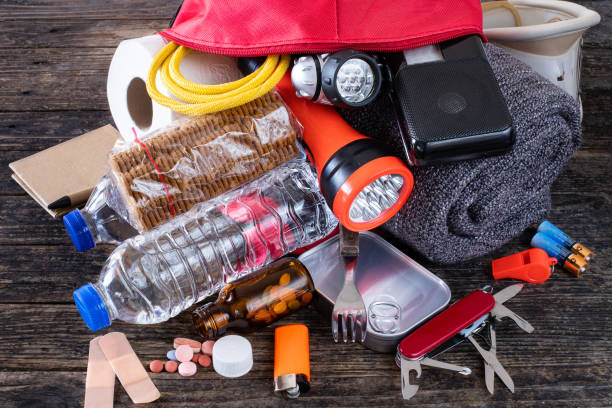 Earthquakes are one of the most destructive natural disasters and can strike with little to no warning. Preparation is key when it comes to protecting yourself and your family from the damages caused by a major earthquake. One vital step in preparing for an earthquake is having an emergency kit on hand. This article will provide some tips on how to build a basic emergency earthquake kits that you can use in the event of an earthquake or other emergency situation. 
An essential part of building a basic emergency earthquake kit is having the right items on hand. A good place to start is by putting together a three-day supply of non-perishable food, such as canned goods, dried fruits, nuts, and seeds. You should also consider packing a three-day supply of water—at least one gallon per person per day—as well as water purification tablets or filters. Additionally, it's important to include flashlights, blankets and sleeping bags, first aid supplies, tools (such as pliers and wrenches), cash, and garbage bags for personal sanitation purposes. 
In addition to these basic items, you should also consider packing any medications you may need for yourself or your family members in case pharmacies are closed after the disaster strikes. It's also important to have copies of important documents such as birth certificates or passports stored in a waterproof container so they don't get damaged if there is flooding or water damage during the quake. Finally, it's wise to include items like duct tape and rope that can be used for repairs or makeshift shelters if needed. 
Once you've gathered all the necessary items for your emergency earthquake kit, it's important to store them in sturdy containers that can withstand being knocked around during an earthquake. It's also helpful to label each container with its contents so you know exactly what supplies are inside each container in case you need something quickly during an emergency situation. The last step is to make sure everyone in your family knows where your emergency kit is located so they can access it easily when needed. 
Making Your Kit Portable and Compact
Once you have gathered all the essentials for your emergency earthquake kit, you need to make sure it is portable and compact. The best way to do this is to use a backpack or duffel bag. That way, you can easily grab your kit and go if you need to evacuate your home in a hurry. You may also want to consider getting a smaller backpack or duffel bag for each member of your family so that everyone has their own personal emergency kit. 
An earthquake can happen without warning and can cause extensive damage. If you live in an area that is prone to earthquakes—such as—it is important to be prepared by having an emergency earthquake kit on hand.
Preparing for an earthquake doesn't have to be complicated—it just takes some forethought and planning ahead. Having an emergency kit stocked with essential items will help ensure that you're ready if disaster strikes unexpectedly.